Tailor Brands has everything you need. Easy to use and effective, its logo generator does the job. Keep reading, and I'll explain why it's still worth checking out even if all you need is a logo. It's on the pricey side if that's all you actually want.
There are several Tailor Brands reviews online, some positive and some negative. Based on my expertise this Tailor Brands review examines the software's functionality as well as its benefits, drawbacks, and best uses.
Tailor Brands: About the Firm
TailorBrands was established in New York City in 2015 by a team of company owners with the goal of democratising branding and providing a low-cost platform for startups and small businesses. TailorBrands was established because to this concept.
Investors and company owners like the concept of small firms' branding and marketing processes being automated. The business has raised more than $70 million in funding since 2015. These investors include, among others, Armat Group, GoDaddy, OurCrowd, and Mangrove Capital Partners.
Tailor Brands: What is it?
Tailor Brands makes it possible for individuals, corporations, and organizations to develop their own "brand identities" by customizing logos, typography, color patterns, and other features for use in print and online communications.
A graphic design program for making commercials is called Tailor Brands. Its branding resources are made for businesses that are just getting started or are thinking about rebranding. It's also fantastic for businesses wishing to streamline the creation of advertising material and social media management. Making a logo is simple with Tailor Brands.
Take a brief test that asks for your preferred font and picture choices. The logo ideas platform generates logo ideas based on your quiz answers and brand brief. With the help of a feature called Tailor Social, the programme also helps you create ready-to-use social network postings.
This implies that all you have to do is pick a platform, then a template, and lastly modify it. After that, you may download your work and post it on other social media platforms.
Highlights:
Tailor Brands : Features
Your brand, especially for small businesses, is crucial. It will be really challenging to differentiate yourself from your competitors without creative and memorable branding. This is particularly true online, where you are up against potentially hundreds of thousands of other firms.
When you join up with Tailor Brands, the first thing you'll do is create your own logo using the many icons, fashionable fonts, and shapes available to you. The wizard will lead you through a few steps to identify your preferences and create your logo instantly.
A similar wizard is available to automatically create websites, or you can do it manually by first selecting a template that works for you. In our analysis of Tailor Brands logos, we were equally taken aback by the website designer and logo designer.
Additionally, Tailor Brands offers user-friendly graphics tools for all assets, allowing you to further personalize business cards, apparel, branding decks, and anything else. If you'd like, you can even use these tools to practice creating your own logos.
However, other graphic design programs like Canva provide more sophisticated customization with more latitude. The complete reviews of Canva are available here.
You'll receive numerous free alternatives of your logo, each reflecting the character and preferences of your company.
One of the main selling points of Tailor Brands is that it provides a single platform for all of your company's branding materials. This platform has an easy platform where you can view and manage all of your materials, such as your webpage, branding, digitalization cards, as well as other graphic designs.
It's really easy to use the system, as almost all Tailor Brands reviews will verify; your color and style selections will instantly synchronize across different assets to maintain everything on-brand. To develop your personal brand design, which will be used in future productions through networking, social media, and print assets, you may even utilize a quick wizard.
Tailor Brands performed a wonderful job of making sure the process is clean, structured, and simple to understand so newcomers won't be confused by the management system, even if there is a lot to keep care of while producing all your brand's assets.
Using this unique file, you can maintain the logo's quality when it is enlarged for use on printed materials like posters and billboards.
During our review of Tailor Brands' social media features,
we were impressed by how well they worked with the platform's simple design.
To start, it enables you to include social sharing buttons and symbols for sites such as Instagram, Facebook, Pinterest, Twitter and Linkedin on your pages.
To make you appear more visible and expert on social media sites, Tailor Brands can also automatically design your logo in multiple sizes appropriate for multiple social media platforms.
It should come as no surprise that the majority of reviews of Tailor Brands agree that one of the platform's strongest features is its ability to integrate social media.
For the protection of your brand's data and intellectual property, Tailor Brands has a platform with an SSL certificate and a privacy policy that is mostly reliable and up to date. If you're concerned about the safety of your customers and clients, the website you design and publish with Tailor Brands may be equipped with a free SSL certificate.
Watermarks are excellent for preventing unlawful usage of your branded assets or IP theft. The good news is that virtually every Tailor Brands asset, including any photographs you submit to Tailor Brands and stock images, may be watermarked with your company logo using the graphic design tool.
Price Structure:
Customers may choose from a large selection of in-depth subscriptions at Tailor Brands. It has everything you require to develop a strong brand identity. Comparable to its rivals in pricing. there are three strategies:
If you want to purchase a Tailor Brands membership, you may download your logos right now. These subscriptions can be purchased with one of three different billing cycles: annually, biannually, or monthly.
You should keep in mind that upgrading your subscription gives you access to more advanced tools for professionals, such as analytics for social media and Vector EPS file types.
Simple to Use:
Step 1: With only a few clicks, Tailor Brands claims to be able to "start your business." We were therefore naturally interested to observe how simple and effective the signup procedure was as we proceeded to assess Tailor Brands. Here is our detailed analysis:
Visit the Tailor Brands site, enter your company name and, if desired, a slogan, then choose "Get Started":
Step 2: Tailor brands ask how you found them.
Step 3: Next, you may describe the goods or services you want to provide so that Tailor Brands can customise your experience.
Step 4: The next step is to enter the sector you work in or pick the appropriate choice from the menu. This is also the place where you may write a brief description of your company and the services that you offer.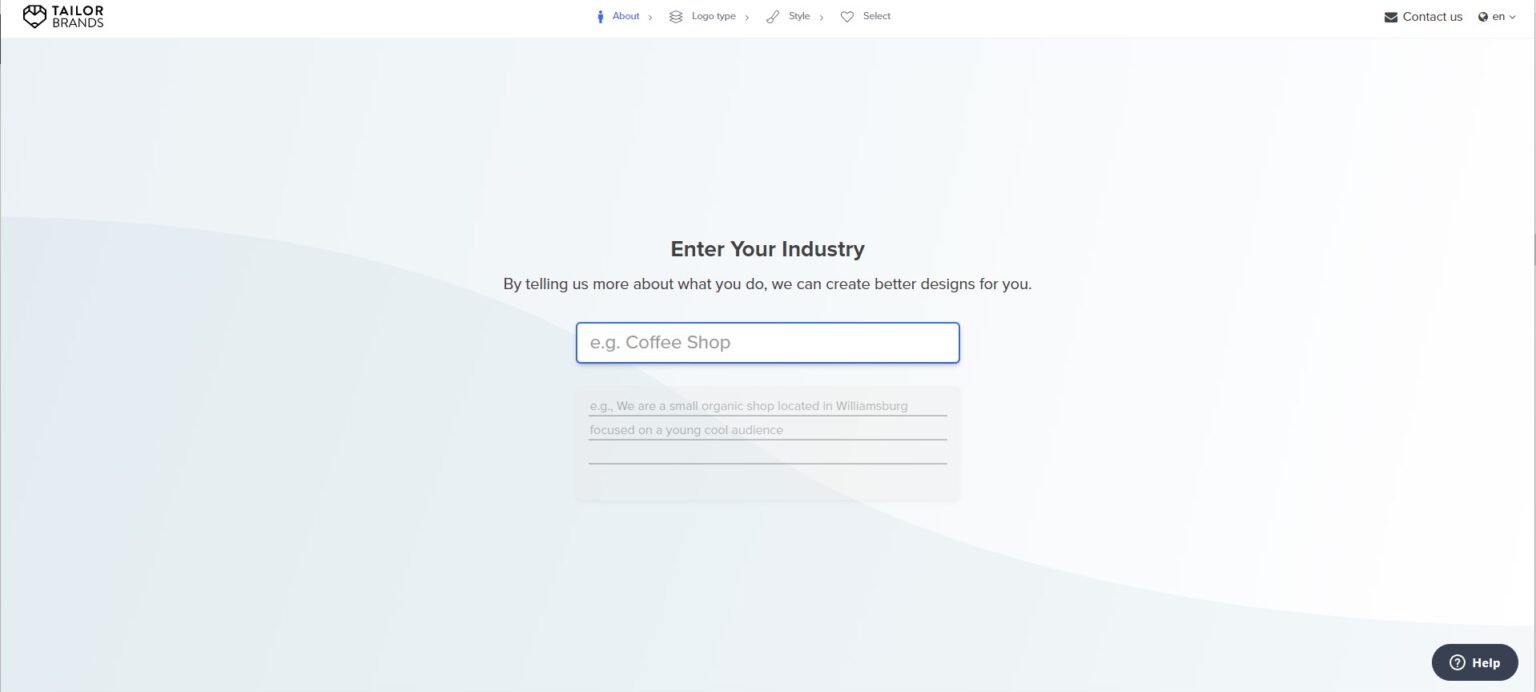 Step 5: Now that we have really created our own logo, we can understand what all the buzz about Tailor Brands logo creator is about. First, you may select a logo based on an icon, a name, or an initial.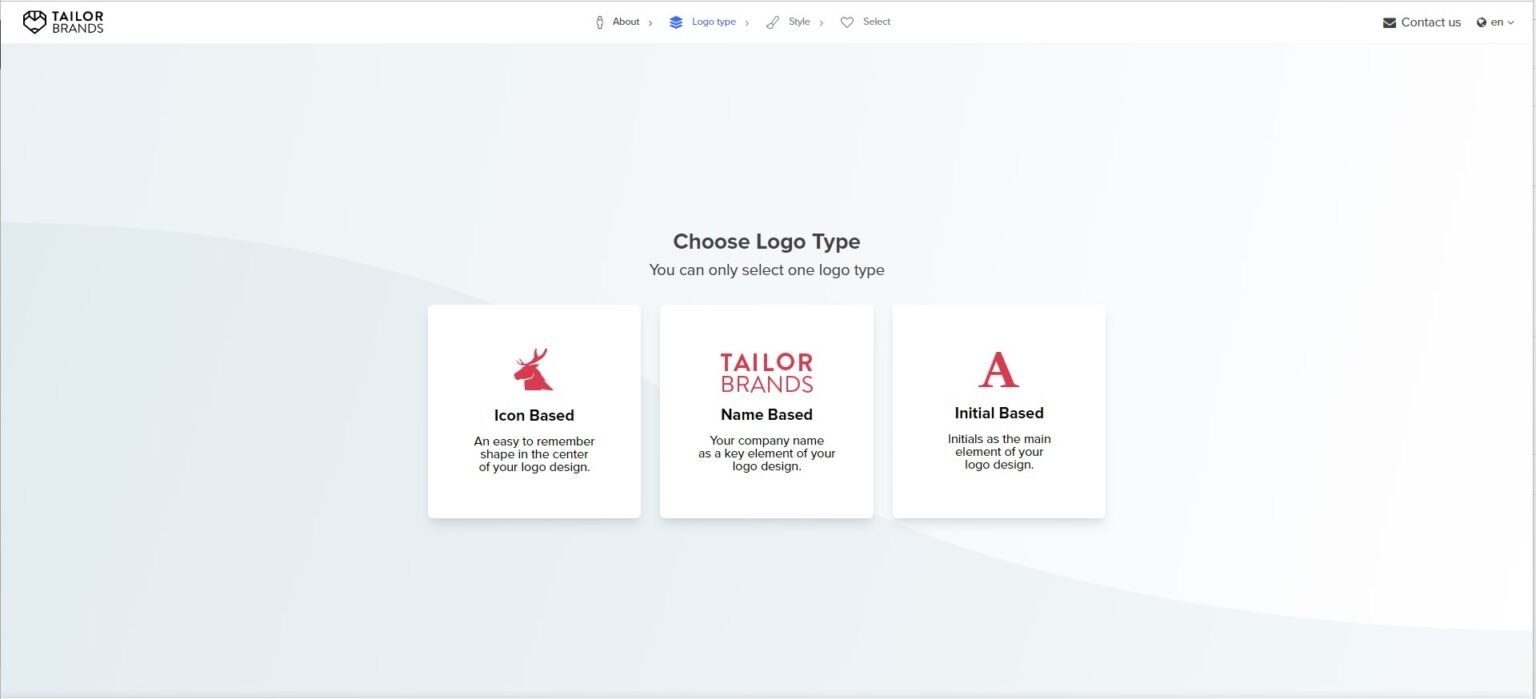 Step 6: If you choose icon-based, you can choose to choose an appropriate geometric form or icon.
Step 7: Then, select up to five icons to use from Tailor Brands' collection of expertly created icons.
Step 8: Tailor Brands wants to know what kind of typefaces you enjoy most so they may include your preferences into their future panel. Later, a logo design recommendation for you will be based on your selections.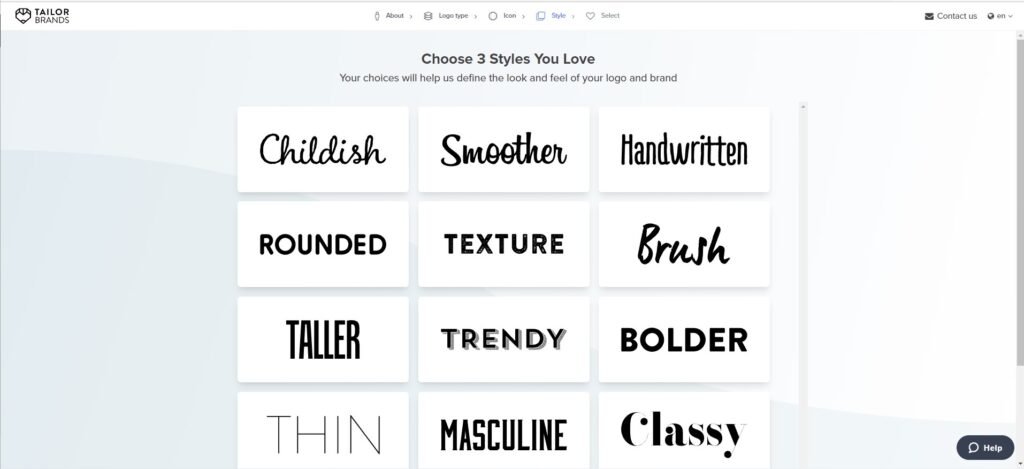 Step 9: It will take some time for Tailor Brands to make your logo. You may wait it out because it normally just takes a few seconds.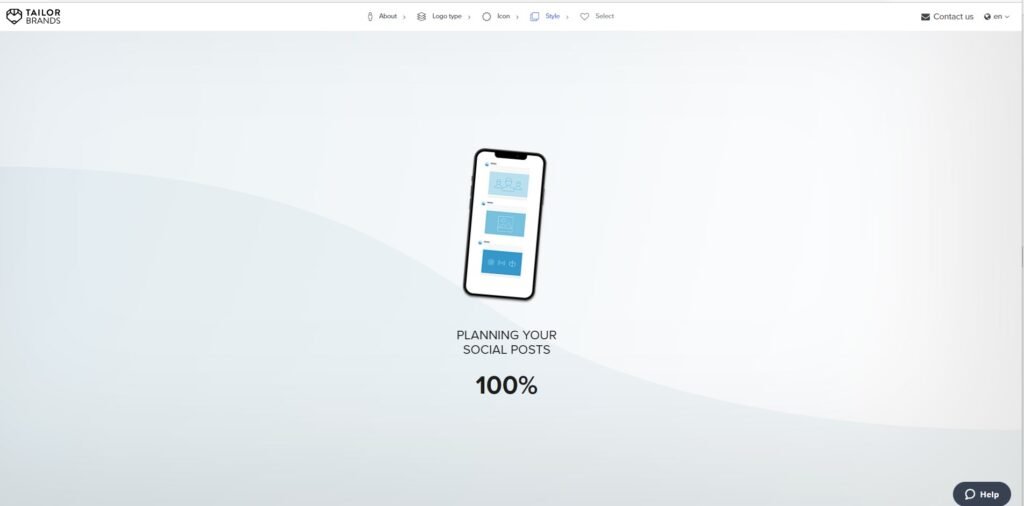 Step 10: Once it's completed, you'll have to register in order to access all of your logo possibilities. You are not required to make a payment just yet, so don't worry about how much Tailor Brands costs at this time.
Step 11: You can see that Tailor Brands will produce many alternative logo templates depending on your prior selections, and you can toggle between them using the menu on the left. The preview will present a design for a square logo, an example website, and an illustration of how your logo will appear on various items, such as products, social media platforms, business cards, and so on.
You now also have the choice of further customising your logo or selecting "Love it! and continue building your website.
The next designer will be displayed if you decide to further alter your logo. There is a great deal of flexibility in terms of aesthetics and functionality; for example, you can alter the icon, icon size, icon colour, icon shape, and text size and colour. Overall, we had a pretty good time reviewing the Tailor Brands logo since it's so simple to use, especially for non-designers.
You still have just enough flexibility to express yourself with Tailor Brands, though. You can always check the preview before making a change to see how it will appear.
You may control every part of your brand's online visibility on the Tailor Branding platform by clicking that, which will lead you to your account dashboard.
Support for Languages:
Other languages besides English are supported by Tailor Brands. There are numerous more languages as well, such as Dutch and French.
Customer Support:
Conclusion:
Tailor Brands is a one-stop shop for launching your brand that is incredibly user-friendly and straightforward. Anyone may use its straightforward and enjoyable tools to make logos, websites, as well as other easy-to-customize assets, or they can hire an AI bot to do it for them.
Either way, it's a great service for ensuring that your brand has all it needs to succeed. For your brand's logo, web presence, and brandable assets, Tailor Brands provides a simple, economical, one-stop shop.
Useful Links: