Search engine optimization (SEO) is one of the newest marketing disciplines out there, and it is also moving at an extremely breakneck rate. It has taken on a form that is hardly recognizable from how it appeared before we began working on it. In this blog post, we'll go into depth about the top 10 SEO trends. Let's start now.
Despite the fact that the underlying idea hasn't changed, search engine optimization is still focused on making websites simple to navigate and comprehend.
The first step to getting your website ranked highly on Google is to make sure that you're using SEO best practices. You should always include keywords in your title tags, meta descriptions, and URL. Make sure that all of your pages are mobile-friendly, and don't forget to optimize images and videos too.
Top 10 New SEO Trends:
The first search engine optimization (SEO) trend that will dominate the industry in 2022 is content marketing. Content marketing is all about creating high-quality content that people want to read. It's not just about writing articles; it's about creating videos, infographics, podcasts, etc.
1.Core Web Vitals Optimization for SEO Trends
Core Web Vitals are signals about how a page makes a user feel that are used to measure the user experience on a website. Simply said, these signals evaluate how quickly people can interact with your website and the quality of the results they will get.
The user-friendliness of the website is also evaluated by these signals.
The metrics that are included in Core Web Vitals will continue to develop over time.
Google Core Web Vitals are key performance indicators used to monitor website health in three different ways: loading, interaction, and visual stability.

Note: For each of the following metrics, a useful minimum to evaluate is the 75th percentile of pages on mobile and desktop devices.
Your site's core web vitals information may be found in the "experience" area of your Google Search Console dashboard.
How to Evaluate Core Web Vitals Metrics?
It's a good idea to learn where your site stands right now before focusing on raising its Core Web Vitals ratings. You'll be able to track your development with this method. Regularly reviewing your results may be an important aspect of maintaining your website.
2. Keyword Research for SEO Trends
Now that you know how to appear in search results, let's figure out which strategic keywords to target in the content of your website and how to write that material in a way that will appeal to visitors and search engines alike.
Understanding your target market and how they search for your information, services, or products will help you make the most of keyword research.
Keyword research helps you answer queries like:
Why is keyword research important?
Finding the right keywords to target is made easier with the aid of keyword research, which also offers useful information about the Google searches that your potential customers are really doing. Actual search phrases can inform content and marketing strategies.
When doing internet research, people employ keywords to discover answers. Therefore, you stand to increase your traffic if your content is successful in appearing in front of your audience while they do searches. Consequently, you have to concentrate on such queries.
The inbound technique also suggests that rather than creating content around what we need to tell people, we should instead focus on what they want to learn. So to speak, our audience comes to us.
The most well-known benefits of conducting keyword research are:
Elements of Keyword Research:
5 Best Keyword research guidance:
1. Select a keyword research tool:
Only a few keyword research tools are helpful.
You may use Google's Keyword Planner and Google Trends for basic research, or pay to produce a list of specialized keywords and search insights for Google, Bing, and Yahoo.
2. Find long-tail keywords:
Using this is one of the best techniques to uncover long-tail keywords. Long-tail keywords, which are extremely specific search queries, often have little search traffic.
3. Use Social Media for Keyword Research:
Reddit, Quora, Instagram, Facebook, Twitter, Pinterest, forums, and online communities are great keyword resources.
Even if you know your audience, you may not understand them.
Even if you know your target market, you may not understand them.
Most of us share our everyday lives, jobs, favorite shows, interests, and purchases on social media.
4. Analyze the intent of the search:
Want to find keywords quickly? Use Keywords Explorer's question analysis. This screens for queries, which are usually informational.
Always select high-volume, low-competition themes; apply a Keyword Difficulty, and volume filter.
Ubersuggest's finest keyword visualization
5. Find out what people are interested in
Suppose someone googles "Graphic Design." People are seeking a definition of the phrase, but you should also consider other questions they may have. What more should you include?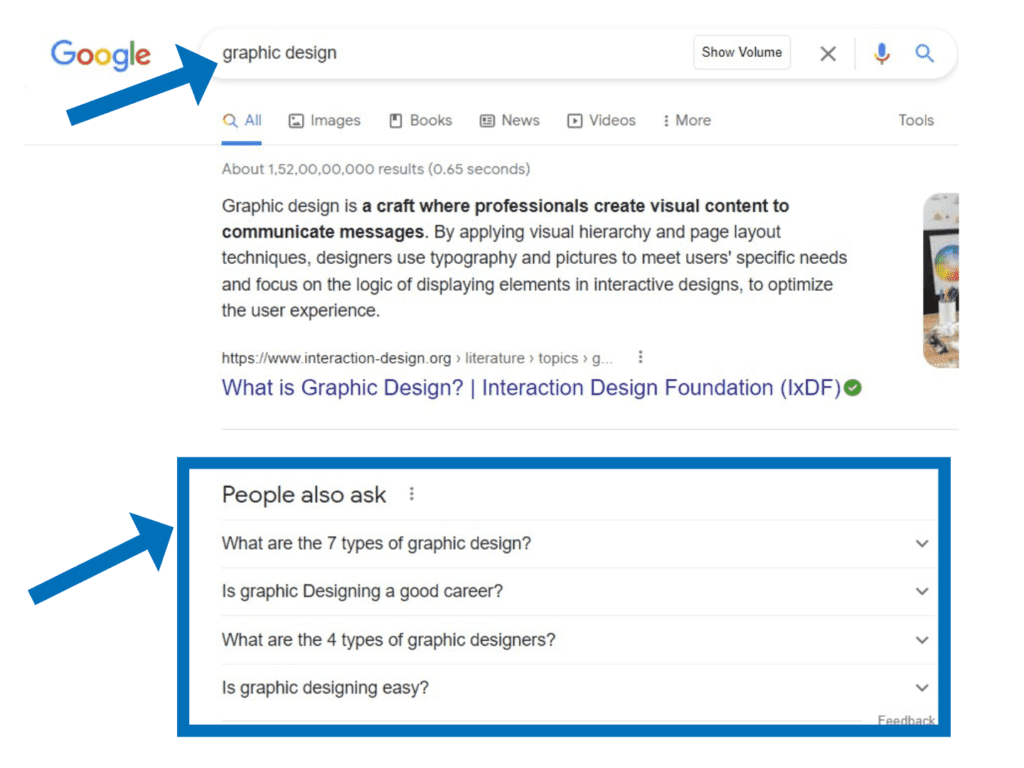 3. Rich snippets
Rich Snippets, commonly referred to as "Rich Results," are just regular Google search results that have more information presented. Usually, the HTML of a page's Structured Data is where this additional information is sourced from. Review, recipe, and event categories of Rich Snippets are common.
Why are rich results necessary for SEO?
In most Google search results, 3 elements of data appear:
Rich Snippet results are more appealing than regular search results, as you might anticipate. It may result in an increase in organic CTR (Organic Click-Through-Rate)
The Various Forms of Rich Snippets:
Before looking at how to optimize for them, let's look at some of the most popular sorts of rich snippets.
How to Setting Up Your Data through schema mark-up
Using Schema.org structured data is the first best practice for optimizing for the coveted rich snippet.
Based on the data type that is already in the Schema.org vocabulary, structured data enables you to optimize your snippet in a way that contains all of the fundamental information that that snippet requires.
According to the data that Google already possesses in its database, individual entities are mapped to Schema.org structured data that Google supports. You may optimize for these entities by utilizing structured data according to Schema.org.
You should not worry about customizing Schema.org to particular search engines because all major search engines support them.
You may determine the appropriate data type match for the entities and subjects you are optimizing for by doing research on Schema.org.
All you need to do is code the markup once you have the efficient data format.
You can utilize JSON-LD structured data or traditional HTML structured data.
4. lengthy & Quality content
The frequently brought-up issues in SEO seem to be the content length and how it relates to rankings.
People believe that the number of words used in a piece of content is taken into consideration when determining search results and that Google views a large number of words as an indication of high-quality information.
Benefits of lengthy Quality content for SEO:
How to write a high-quality lengthy post?
Therefore, lengthy articles—which are designed for readers, not search engines—might have certain advantages over brief pieces. However, it is even more crucial to maintain a good degree of text quality when creating posts with a large word count.
What does that signify, though? Good texts are understandable, well-organized, and include unique material.
Whatever the situation, be sure to keep the following things in mind:
5. E-A-T
The acronym E-A-T indicates expert, authority, and trustworthiness.
The theory comes from Google's Search Quality Rater guidelines
You probably have guessed that the quality of a page has a big impact on where it ranks in the organic search results provided by Google.
The most crucial elements considered by Google when determining the overall quality of a web page are listed in the recommendations as follows:
Does E-A-T affect rankings?
The rank of your content can be impacted by E-A-T, even though it is not officially a ranking criterion.
As part of numerous different components of its algorithm, Google employs the E-A-T principle to evaluate what information is high-quality and should be placed higher. Indirectly, it can affect your total search ranks even if it isn't a direct ranking element.
E-A-T standards specify the kinds of material Google regards to be of a high caliber, as determined by genuine human reviewers who assess hundreds of websites.
Based on their rules, a content strategy should:
6. Artificial intelligence
The term "artificial intelligence" (AI) is more of a catch-all phrase that refers to a number of distinct technologies. Some of these technologies include machine learning (ML), natural language processing (NLP), deep learning, and more technologies that are still in the process of development.
Artificial intelligence is a branch of technology that uses machines to assist make decisions and resolve issues. Machine learning was originally aided by AI, which was first applied to computers. An algorithm learns to fulfill a job using machine learning.
What is AI SEO?
Artificial intelligence has quickly become an important part of the algorithms used by major search engines.
This means that you can use AI to improve your SEO if you know how AI works and how it affects search engines.
Data analysis, a crucial component of creating a successful SEO strategy, may be effectively done with the help of AI.
Both artificial intelligence (AI) and search engine optimization (SEO) are becoming increasingly important in the digital world.
How is AI impacting SEO?
These are some SEO-related tasks that AI may assist with:
How quickly can you use AI Write to develop and optimize SEO content?
7. People also ask [PAA]
A Google SERP feature known as the "People Also Ask" (PAA) box provides information on queries that were also asked. Every response is sourced to a different webpage, and Google gives a link that may be followed to get the original information underneath each answer.
The goal of Google is "to arrange the information such that it is both helpful and globally accessible." The firm is constantly looking for methods to deliver the most relevant and useful information to searchers and to do so on the search engine results pages in the most effective manner in order to carry out this purpose (SERPs).
Key Things Regarding "People Also Ask" Tabs:
How to Take Advantage of using "People Also Ask"?
8. Voice Search
The future of internet search has been predicted to be voice search several times during the past ten years. In any case, voice search has already begun to gain popularity, and many users likely can't envision going back to typing results.
There will be an ever-increasing number of people using voice search as its use spreads around the world.
Knowing what technology and with what purpose your target audience uses it is helpful when optimizing for voice search.
How To Make Your Website Voice Search-Friendly?
9. Video Content Marketing
Video marketing is key to SEO and digital marketing success. According to research, video content may dramatically boost your internet presence and improve time spent on the website.
In addition, adding videos increases your site's chance of ranking on page one of SERPs by 53 times. Why? as a result of the fact that 75% of customers visit a company's website after viewing a video about its services and products.
These numbers highlight the effectiveness of video content and how it affects SEO. Your chances of ranking higher in search results rise as more people interact with your video (shares, likes, and comments). How so?
You gain quality backlinks from such interactions, and search engine crawlers utilize those metrics as important indications to choose where to rank your website. Despite this, the tendency is continuing. As a result, you should employ videos to strengthen your SEO approach.
How to make video marketing SEO-friendly?
10. Mobile-friendly
For SEO, mobile friendliness is important. The fact that a user is conducting a search on some kind of mobile device is really a ranking indication in Google and Bing's algorithms. In general, mobile search results favor websites that are optimized for mobile devices over those that are not.
Therefore, having a website that is friendly to mobile users is very necessary for search engine optimization if your website in any way depends upon targeted traffic from mobile users.
The level of a website's mobile friendliness indicates how effectively it has been created and optimized to display on a mobile device, like a tablet or a smartphone.
With Google's Mobile-Friendly Test tool, you might be able to determine whether your website is mobile-friendly.
How to Make Your Website Mobile-Friendly?
Conclusion:
These SEO techniques will be prominent in 2022. Put these SEO techniques to use on your website to keep one step ahead of the competition.
Useful Links: